Bike Of The Week
Alright our ton-up speed chasing brethren, you asked for it and it's back. The Café Racer TV Bike of The Week! The same rules follow as did with Seasons 1 and 2, so be sure to add your bike to the viewers bike page and get your friends to vote. We'll be posting up The Bike of The Week judged by the CRTV staff weekly. You'll get a chance to post up a couple photo's, a little bio and some tech specs for your trusty two wheeled ton-up steed and who knows, you might even be scouted for a future season of Café Racer! So better get 'em shined up and loaded to the viewers bikes gallery!
Featured Bike Number 4 of Cafe Racer TV Season 3 – Chris Plank's Kawasaki Z650
CRTV,
I'm a man of few words, so I'll keep it short!
At the end of 2011 I saw the Movie: 'The Girl with the Dragon Tattoo' (in german: 'Verblendung') from Stieg Larsson with Rooney Mara as 'Lisbeth Salander'. In this movie, Lisbeth was riding a nice cafe racer. When I saw the bike, my heart began beating faster and I said to myself: yes – time to build a thing like that! Thats the reason why i was looking around for a stock bike. Then i found the 1979 Kawasaki Z650, it hadn't been used for 12 years and was leaning against a wall in a garage. I had a picture in my mind how the bike should look like, so i stripped it down until the frame was left, and began to build it up again. First i did all the mechanic things like changing all the wear parts, oils, repaired some defects that appear after this long stand and waked the engine up again. Then i bought some parts like handlebars, footrests, tachometer, tail, tyres, lights, etc…, cleaned and polished many parts to get them back on the bike. The whole electrics and battery was getting a new home under the tailend. I like colours that belong to our earth, like brown, green, sand etc, so when I first saw the awesome Marakesh-Brown on a BMW X1, I thought that I would someday make something using this colour. And this 'someday' came with the Z650. All of the work i nearly did myself, except painting the colour with the airbrush, and doing the leather on the seat. I loved working on the bike, seeing how it goes forward step by step. And after about 150 hours of work i can now enjoy my 65hp Cafesaki on the Austrian roads – and it makes big fun
Stay on your bikes, cheers, Chris…
Featured Bike Number 3 of Cafe Racer TV Season 3 – David Reid's Thruxton Custom
Dear CRTV Crew,
Greetings from Afghanistan! This is my 04 Thruxton "Salma". I first saw an article on the then new Thruxton while I was deployed to Iraq in 04, when I got home I would visit the local Triumph dealer every day till the wife finally said " Oh will you just go buy it for heavens sake!". Since then I've added a sweptback exhaust system from Bella Corse, alloy fender from MAS, stainless lines, BMW headlight guard, Triumph chrome side panels, alloy tach & speedo cups from D9, alloy Lyta tank from T.A. Baker in Wales, Pirelli Sport Demons front and rear, alloy chain guard, nickel plated chain, Hagon shocks, Joker ignition relocate, stock seat redone in a Manx type style and a fender eliminator from South Bay Triumph. The motor is mildly tuned and the carbs re-jetted. I didn't remove the airbox and opted for a K&N Hi-Flo instead. Right now I'm deployed again and writing to you from Afghanitan. I have a whole bunch of goodies waiting for her when I get home including finned stator and sprocket covers from Speed Merchants, direct connect front brake resevior from British Customs, and a slew of others. I live in Simi Valley Califonia when I am home and I'm a member of the LA chapter of the Brit Iron Rebels. Thanks to everyone who voted for my bike and hope to see you all soon.
David
Featured Bike Number 2 of Cafe Racer TV Season 3 – Steve's OSSA GT
Hello Cafe Racer TV,
The OSSA Sport GT street bike was built around and from a 1972 OSSA Stiletto Motocross bike. The tank and seat are reproductions of those found on the 1967 OSSA endurance road racers they campaigned. The engine is a 1977 350cc OSSA with custom porting and exhaust by OSSA Engineering. The final wheel horsepower is approximately 45. and when combined with a weight of 262 lbs performance is QUICK, to say the least. With 18″ wheels front and back the handling is great to. In those days, the lightweight 2 stroke MX bikes/chassis were modified and built into racers. If you'd like to see the full detail of the build and the resources I've collected over that last 30 years around OSSA's have a look at my website, http://ossaengineering.com/. Hope you like it!
Featured Bike Number 1 of Cafe Racer TV Season 3 – Pierre Frégeac's BMW
Hello Cafe Racer, (Pierre is a man of few words, so we'll let the bike tell the story!)
I purchased this bike in 1996 from the government, it was a local Police bike. Before doing any major customizations to it, I simply rode it. Everywhere. 100,000km's to be exact! Unfortunately I ended up in a pretty bad accident and the bike needed to be rebuilt so I thought it was a good opportunity to start to customize it in "Cafe Racer" flavor.  Between my friends Manu, Coco & Titi we tore the bike down and refirbished the bits and pieces that needed it and fabrication new items too like the front and rear brakes from a Kawasaki and Ducati; we also fitted a newer Yamaha front end. The bike will never be finished, it's a constant evolution for me.
Thanks! Pierre
Bike of The Week for Week 14 of Cafe Racer TV Season 2 – Stephen Figueriedo's Triumph Bonneville T120

Hey Cafe Racer,
I bought this Triumph back in 2007 off a friend & turned it into a multi-trophy winning "daily rider." Its my only cycle, & being a mechanic by trade, I break it down quite often to keep it running tip top… I tend to "get on her" and with that comes some issues occasionally. I enjoy every second riding it here in New England and I enjoy Cafe Racer TV! I'm a man of few words so I'll let the specifications speak for her.
SPECS:
1972 T120V (modified to 750cc) Morgo big bore kit
CP1000 gear upgrade in the tranny
Full Kibblewhite top end (push-rods, valves, springs,cups, keepers)
Valve & cylinder bore work by (R. Johnson & Sons: Warwick, RI)
crank balancing & con-rod blueprinting by (Britech)
cams by Megacycle (510-65)
case vented via nose-cone & NUPRO 1/3psi check-valve back into the OIF
Gauge holder by (Triples Rule) modified slightly
saddle by (Hotwing glass)
electronic ignition (Boyer Bransdon MIII)
Hagon shocks
Progressive fork springs with leak-proof seals & gaiters up front
Hand made stainless steel brake & shifter levers (me)
All polishing, adjustment, & final assembly done by me
I've never had it dyno'd, so I don't know the Hp @ the rear wheel nor the torque curve, but clocked the bike @ 120mph alongside a friends vehicle.
Thanks!
Stevo
Bike of The Week for Week 13 of Cafe Racer TV Season 2 – Rachel Previt's Harley 1200 Sportster Cafe
Hey guys,
After blowing up my Bonneville Cafe Racer on the way back from Jacks Cafe rockers meeting and being rescued in the rain. I decided I wanted something a bit more modern in the shape of a cafe racer. When this nice '05 1200cc Sportster came up I decided it would fit the bill. Right away I started dreaming about how it would look and before long I had Steve at Redmax Speedshop cutting the frame down whilst I was sourcing parts. I couldn't be any happier with how it turned out. The bike is a great ride and always draws a crowd.
Basic specs:
18″ Akront flanged rims with stainless spokes and Avon Roadrider tyres.
Supertrapp stainless 2-1 sports exhaust, with carb jetted to match and set up on Dyno.
Redmax seat, upholstery and Lyta alloy tank finished off with spondon alloy clip-ons from an old race bike.
After hours of searching I found an Aston Martin paint colour I really liked and a friend of mine (Glenn) made the decals with the name, which I chose from my love of dry lake racers and vintage war planes.
Best,
Racy Rach
Bike of The Week for Week 9 of Cafe Racer TV Season 2 – Michael Mundy's CB550
Bike of The Week for Week 8 of Cafe Racer TV Season 2 – Michel Groenestein's XS750
Bike of The Week for Week 6 of Cafe Racer TV Season 2 – Roger Reeds 2001 Royal Enfield 500 Bullet
Bike of The Week for Week 5 of Cafe Racer TV Season 2 – John Wheeler's 2005 Triumph Bonneville
Bike of The Week for Week 4 of Cafe Racer TV Season 2 – Eric Kerkhoff's 1981 Harley Davidson Ironhead "Harton"
Bike of The Week for Week 3 of Cafe Racer TV Season 2 – Chris Wiesnet's 1976 1000cc R75/6
Bike of The Week for Week 2 of Cafe Racer TV Season 2 – Tim Sampson's 1975 CL350
Bike of The Week for Week 1 of Cafe Racer TV Season 2 – Aaron Ruses 1976 CL360
Season 1 Archive – Bike of The Week
Bike of The Week for Week 12 of Cafe Racer TV – Stefan Seibert's 1968 BSA
Bike of The Week for Week 12 of Cafe Racer TV – Phil Hitchock's 1968 Ducati 250SS
Bike of The Week for Week 9 of Cafe Racer TV – Ry Seidel's CB360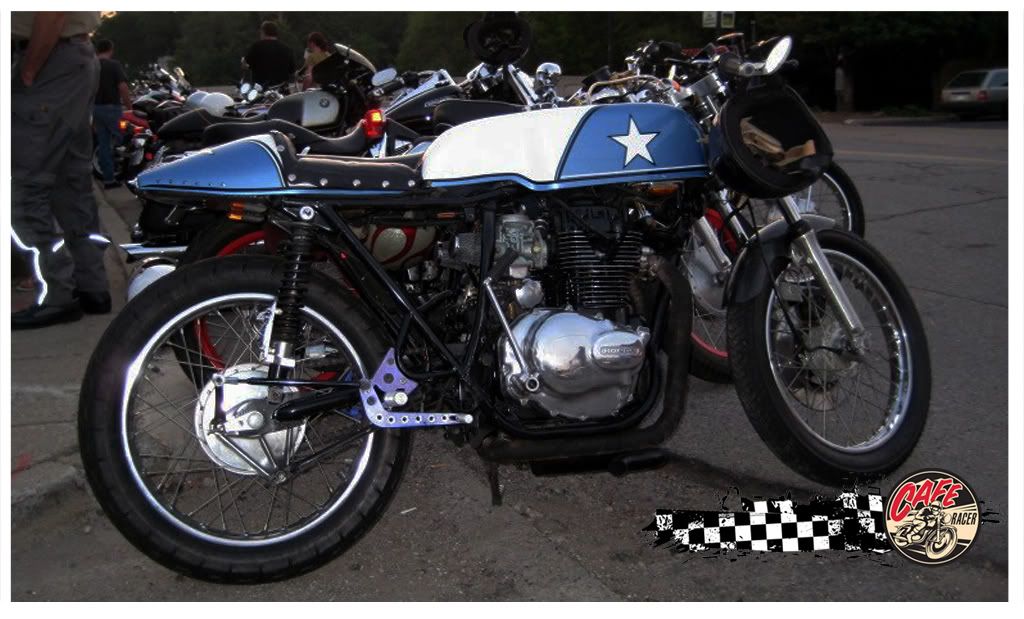 Hey Café Racer Team!
Thanks for featuring my bike for this week's bike of the week!  The build started as a upgrade bike for my wife , over the years I have had many CB Hondas and in my youth, was in love with the early cafe racer  bikes.   This bike happen to be there at the right time and having been thinking about how I wanted one to look, I started stripping away and adding the elements I felt belonged.   I built the bike over three years ago and have been having a blast to riding it around ever since.  As for my wife…well, I'll get her something else eventually!
All the work was carried out by me in my garage.  The hand laid one of a kind fiberglass gas tank and seat pan were formed over a carved foam block.  The seat pan and upholstery is based on a early 70's Italian racer, think Ducati Moto Giro.  After making the clip on handle bars the gauges stuck up too high for my taste so I designed and machined a new upper triple clamp to cradle the single gauge and indicators.  The front fender is my first attempt on carbon fiber formed on a hand hewn wooden mold.
From a performance perspective the exhaust is unique in that it routes from the head all the way to the center stand mounts and Y's into a muffler can and then Y's back out up front . Help keep your toes warm in the cold winters! The rear sets were custom built to mount in the position of the passenger pegs.  I even took on the challenge of anodizing them in my own custom setup.  The rear shocks are just some old Koni's that I modified to fit the Honda brackets and all the electronics are moved into the seat with the electric start remaining intact.
I wanted to retain the ready for the track look so I chose to hide the lighting in the form of small LED tail lights mounted into the tail section and a small set of lamps in the front mounted just below the triple on the frame.  All the paint work it mine as well; I was going for a WW2 navy aircraft feel.  All in all, I couldn't be happier with her.  That's what I love about Café bikes, they're built on simple platforms and anyone can exercise their creativity with little knowledge and tools.
- Ry
Bike of The Week for Week 8 of Cafe Racer TV – Michiel de Molenaar
G'day Cafe Racer TV,
I feel really honoured to have my bike selected as bike of the week!
I got addicted to bike building after I bought a CX500 together with a friend  to turn into a chopper. That project turned out much better than we both expected and I got hooked to building bikes. Choppers are nice to build, but I like to ride my bikes hard. So when it was time to buy a bike for myself the only logical thing for me was to build a caferacer. So I bought a wrecked 1988 BMW R80 with a 1000cc engine and turned it into the bike in the photo's.
Building a bike was a big challenge for me, on one side because I'm not very technical and didn't have any mechanical background at all before the CX500 and this was my first solo build. On the other side I have to do things LOW budget. I'm a Dutch student (geosciences) with a demanding study so I hardly have any time to earn money. This meant I had to be a little creative. For example: I made the seat out of a bicycle rack I found in somebody else's trash, the  exhaust is made out of a stainless steel coffee thermos I bought for a couple of euro's and I used one of my leather belts that usually keep my jeans up to strap down the tank. The only part I did spend some money on is the tacho unit. In my eyes a caferacer has to be minimalistic and functional, this tacho has a speedo, a rev counter and all the idiot lights I want.
The result is not a clean and polished caferacer as you often see on the internet and at meetings, but a bike that is a little rough around the edges and so much fun to ride! The added frame stiffness because of the home made frame braces and the low centre of gravity  make the handling razor sharp while the velocity stacks, the 1000cc engine and the exhaust provide plenty of go and all the right noises.
Greetings from a caferacer addict (there are more bikes on the way!)
Michiel
*For those of you interested in following Michiels bike builds stop by his fantastic BLOG located at http://bmwcafe.blogspot.com/ here's a great little video he shot as well!
Bike of The Week for Week 7 of Cafe Racer TV – Shane Schaap's 1974 Ducati 750 GT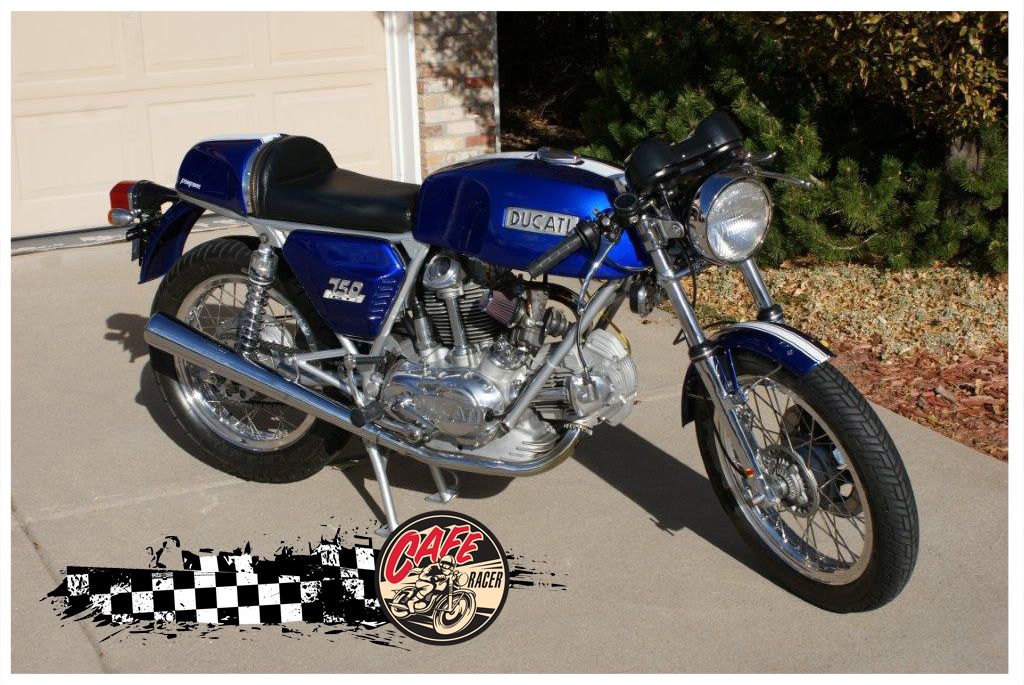 Thank you for taking an interest in my Ducati and for providing such a great venue for cafe racer enthusiasts to showcase their bikes and share their passion. I appreciate you giving me the opportunity to share my story.
Aaahhh, Ducati!  A two wheeled example of Italian styling and engineering. I have always loved "cafe racer" style bikes and the creativity and ingenuity of the people that built them. My imagination was stired by Ducatis 750 GT, nicknamed "Pompone" (The Big Pump) for its large displacement motor. It was the first of Ducati's famous bevel twins and the grandfather of their modern world super bikes.
I like the naked, minimalist look of a cafe racer, and the 750 round case (as they are known by the design of their motors) always topped my list of bikes that I would like to restore and customize.  In no small way was I influenced by my good friend, Dave Van Stelle, who, along with his father and two brothers, had been restoring and racing Ducatis for more than twenty years.  Through Dave's father, I was able to find a suitable rolling basket-case, a 1974 750 GT. The GT had a great combination of power and styling that I was looking to find for my next cafe racer project.  It was a beat-up, uncared for bike, but seeing that beautiful L-twin motor intact made my creative juices start flowing.
After stripping down the bike, cleaning up what I could use and trashing what I couldn't, it was time to transform the bike into what I envisioned it to be.  The paint combination I chose is a racier version of the colors Ducati used on their 1971 750 pre-production models. Underneath the flashy paint, some other modifications I made to the bike include installing high compression pistons, a Dyna electronic ignition, a single "Duc tail" seat, a set of magnificent sounding Conti silencers, which was a major upgrade from the less capable La Franconi exhaust first used on the GT, incorporating a more capable alternator taken from a 1998 Ducati ST2, and replacing the old handle bars for sport clip-ons.
As many know, it is greatly satisfying to take an idea, put your mind and your hands to work, and see that idea come to life. It can almost be addicting. And seeing and riding my 750 keeps me inspired for what possibilities there are for my next cafe racer project.
Cheers!
Shane Schaap
Bike of The Week for Week 6 of Cafe Racer TV – Michael LaFountain's 1971 Honda CB350
Hi Cafe Racer Team,
My motorcycle building days started when I was eighteen and saw a 1965 S-90 for the first time in my friend's garage. I wanted one so bad I would spend hours at the local magazine store searching through every Walnecks and Cycle trader possible (no craigslist back then,) but after about five months of no luck, I stumbled upon a motorcycle tire sticking out of a small dried up creek bed. I dug it out only to find that under it was a headlight, then a frame, and finally a tank. It was a 1965 Honda S-90 identical to my friend's. I felt like Ralphie finding that Red Rider Christmas morning. I spent my entire summer vacation excavating and rebuilding. We fired up both our 90cc of fury in the same week. They may have only gone 55mph off a cliff, but to us at the time it felt like a Bonneville land-speed record. 15 years and dozens of bikes later, the primary goal has been the same- faster, lighter, and louder. The true essence of the cafe racer.
Ok enough, Nicolas Sparks, Here is my most recent build; it's a 1971 Honda CB350. I've always loved mid 60's British and Italian race bikes, so a lot of that inspiration went into this build. The Matchless G-50 and the Norton Manx played a large roll in the over all design of the bike. Here are a few alterations made: Bbattery relocation, handmade seat, alternate tank, and clip-ons to start. I handmade the rearsets and spent a healthy amount of time reshaping the cases to really set it apart from other 350's I've seen. With a good amount of weight removed, the larger pistons and steeper cam this little two cylinder really pulls! I really focused on creating lines for this bike that originally did not exsist. To me the lines are everything and it and I am pretty satisfied with the result on this one. The Mike Taggart Guy Webster Vintage Motorcycle Museum in Ojai California is the final resting place of this CB350 if anyone would like to see it in person.
Thank you for choosing my bike as the bike of the week, I hope you guys like it.
Michael LaFountain
Bike of The Week for Week 5 of Cafe Racer TV – Henry Lambourn's 1990 Moto Guzzi LeMans MK5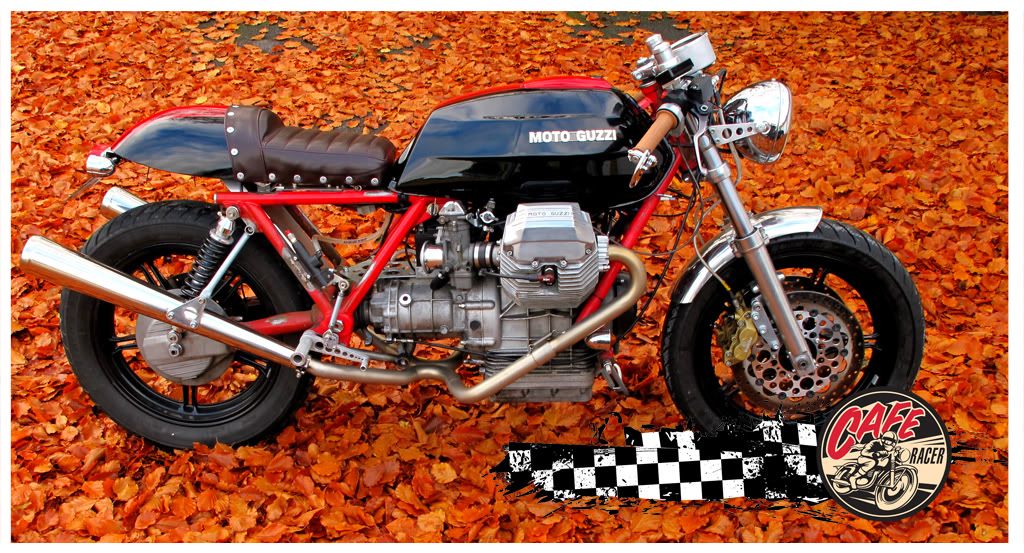 Well, here's my bike. It's taken me almost a year to get to this point and the project is still ongoing. Look closely and you'll see grinding marks still on the frame! She's actually my first bike as I only passed my test recently, but it was the dream of riding a café racer with an open face helmet to the soundtrack of an Italian twin that spurred me on to get my license. To me there's nothing cooler. Seriously. And its true what they say about money not being able to buy you style, a real café racer can only be created in the garage. It's crazy how much attention this bike gets me. Sadly only the male kind but you can't have everything.
So my bike is…..or was a 1990 LeMans MK5. For a bike of this year it's surprisingly old fashioned and kinda crude actually when compared to say my friends Kawasaki of the same age. But crudeness aside there's a certain romanticism that just doesn't come with a Japanese bike. I guess that's why people kept buying them.
When I bought it as the 12th owner, she was in the perfect condition for the conversion…very bad condition! But the engine and frame were fine and that was all I cared about.
The project itself was inspired by the classic British café racer styling, stripped out and low slung. Combined with the racing modifications of the Deccla racing Guzzi's. Particularly the stressed engine frame modifications. This exposes the already massive engine even more. Dominating the silhouette of the bike….lovely!
Other alterations done include restyled tachometer, relocating all the electronics to under the seat, upgraded brakes, custom rearsets, biturbo suspension front and rear, repositioned tank, Vespa indicators, 2 into 1 into 2 exhaust and Ducati 900ss mufflers.
Jobs for this winter are triangulating the frame, gearbox rebuilding/re-shimming. Nearly there!
Cheers
Henry Lambourn
Bike of The Week for Week 4 of Cafe Racer TV – Ralph Millers "Every-man's Budget" Honda CB650 Cafe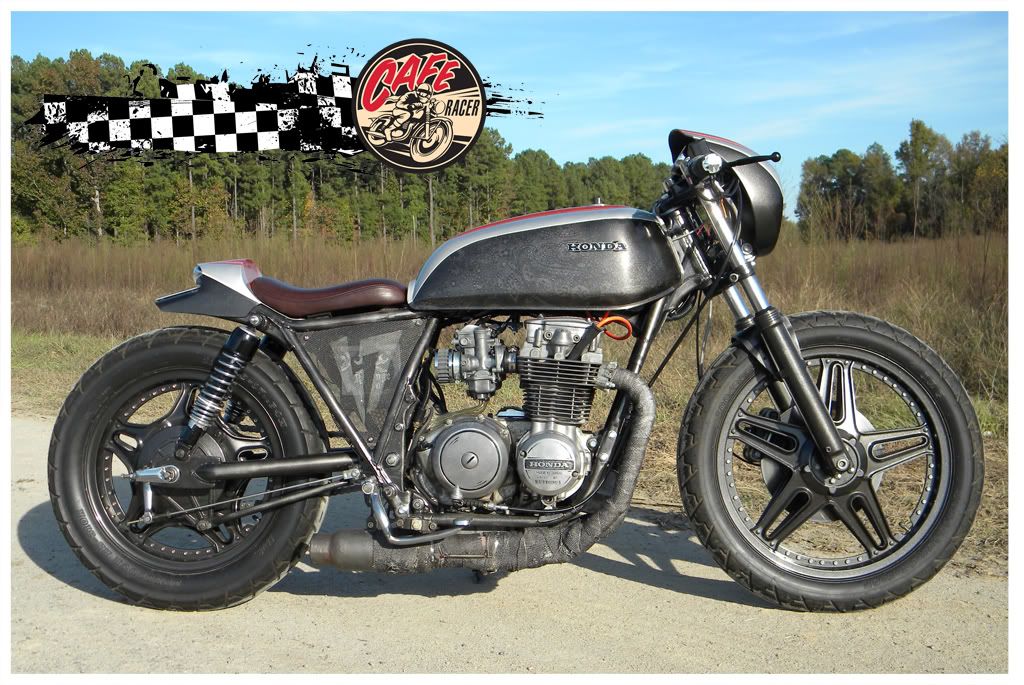 Whats up folks?
Really stoked to be able to show off my cafe racer build in such a great forum and enjoy seeing the show each week.  I have been around Harley's my entire life and came to love riding a variety of models but fell in love with the performance of Buells. After customizing my Buell Cyclone I got hooked on performance bikes and definitely enjoyed the speed factor as well the nimble handling. With loving that style of bike I found my way towards cafe bikes and always thought about checking out the Honda 750's for a killer city bike as I could find them a bit more on the cheap.
When I bought this 1979 Honda cb650 for about $350 on craigslist I had no intention of building a cafe bike at all. It was originally intended to be a trade off for a buddy of mine who was going to do some work for me, as he wanted a cheap bike to run around town with. Low and behold he didn't help on the project and now I was stuck with a broken down bike. The bike wasn't running and was bought as is, which turned out to be quite the issue down the road, as I found out it was wrecked. The left side of the frame was tweaked and the pipes were bent out of whack a bit. The major issue was of course the carburetors and once I saw how bad off they were I knew that to even get the bike running it was going to require major surgery. Knowing all these factors and just staring at it for hours on end, I hatched a plan to make a custom cafe styled bike that would be built on a tight budget and to make as many new parts as I could by hand.
I revamped the frame to allow for the gas tank to sit a bit more flat, created a new style of rear section out of sheet metal, made a new seat pan that locks the tank into place, found a perfect style of fairing taken from a Harley V-Rod and fabbed up numerous parts on the bike to make it distinctive and unique. Most of all though, I wanted to create a cool Cafe Bike that would be built on a shoestring budget and one that I could ride the piss out of. I accomplished both and I dig blasting this bike all around town as its fun as hell and can't wait for the next build.
- Ralph Miller / Rusty Knuckles – http://rustyknuckles.blogspot.com/
*Be sure to checkout the exclusive Cafe Racer Tee's that Ralph designed for Cafe Racer TV!  They're like none-other!  Check them out by CLICKING HERE.

Bike of The Week for Week 3 of Cafe Racer TV – Ron Gee's stunning Harley Davidson Sportster Cafe
Café Racer TV Team,
I have been into Cafe bikes for about 10 years.  Sport bikes are fun and all…but old cafe bikes have soul.  I am constantly looking for a project to "cafe out".  I have had 3 Norton Cafes, a Triumph Thruxton, and Honda CB550 café.  For my next project I want to do a Benelli SEI!  Such style!
I ride with a bunch of guys with Harleys and catch a lot of grief for my choice of rides, so I set out to Cafe a Harley to put the ridicule to bed!  I saw Benjie Cafe Racers Sportster tank and seat and went with it.  Finding a donor Sportster was a challenge.  '70's Sporty's are either restored and to nice to modify or completely clapped out, but I got lucky and found a strong running/cosmetically challenged 1976 Sporty in Milwaukee.
Once I got it home I proceeded to rip everything off of it- piece by piece it came apart and the transformation began!  I powdercoated the rims and re-laced them and went the distance and added clip-ons.  Wanting to use the stock Harley controls, I had to turn 1″ bar stock aluminum down to 7/8″ to fit in the clip on fork clamps.
Tons of credit goes to my Brother-in-law, Dave Carnock for the paint and creative fabrication on various parts.  The nice thing about working on a Harley is….there are tons of aftermarket sources for trick parts that can be modified.  I am not a chrome fan, but the chrome oil tank worked for me…the pipes are J&P cycle stock….again, I don't like chrome, but am not a fan of wrapped pipes either so I needed to come up with a plan for them.  New controls and clocks also from J&P and new front brake caliper from a custom shop since the old ones are junk.
In the end, I think I ended up with a pretty cool café racer with a big v-twin lump as the heart and soul.  When she rolled off the line in 76' she probably had no idea she'd be stripped of all the heavy weight garbage she was born with and turned into a thoroughbred race horse.  I'm confident she doesn't mind!  Thanks for the spot guys!
- Ron Gee
Bike of The Week for Week 2 of Cafe Racer TV – Brian Smith from the UK with his gorgeous 1960 Slimline Triton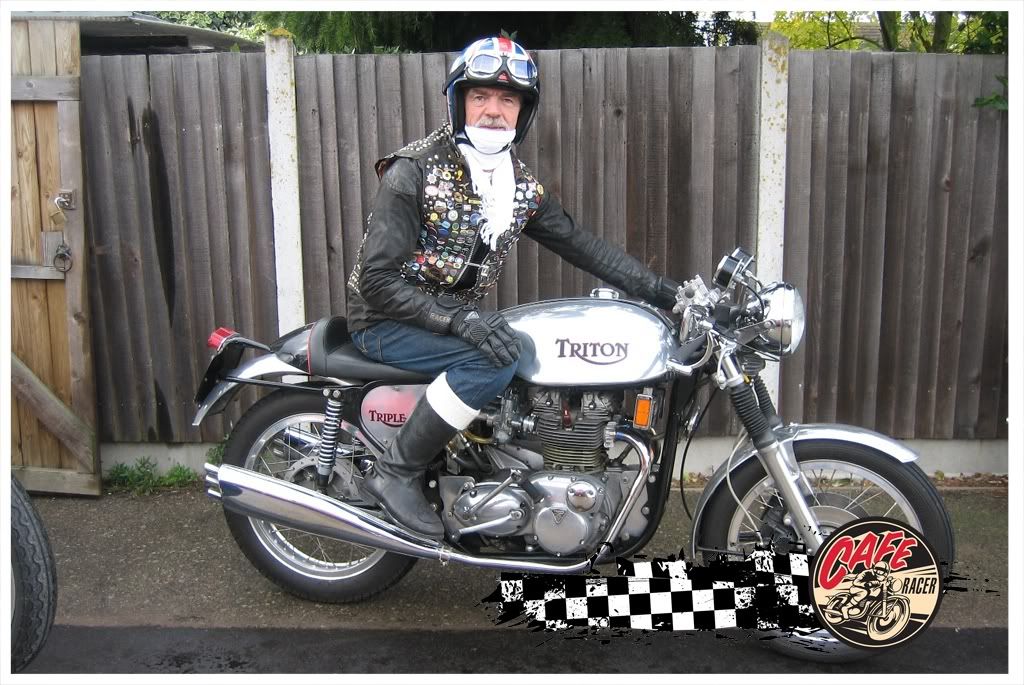 Hi there Cafe Racer TV Team!  My love of Cafe Racers started back in 1966 with my 16th birthday and a brand new Royal Enfield Continental GT.  Having always wanting a Triton and living on £18 in my youth I knew it wasn't in the cards.  I kept my heart in it, caff's that is, and went on to own, build and bend many a bikes.
I retired in 2006 and after scouting eBay bought a 1960 Norton Slimline frame which the previous owner so graciously decided to bend the forks on!  A mate of mine was sellingf an engine from a Trident 750 but it was no runner.  Three new Corillo rods, three new pistons and a lot of cursing later- she was ready to go!
I grafted in forks from a Suzuki GS500, which I'll add, is no mean feet with an Imperial frame and metric fork stem!  In addition to the troublesome front end I have to fabricate all new engine mounting plates, oil tank mounts, chain guard, etc…  In the end, I'd like to think she came together quite well and goes very well just the same.
Thanks!
Brian Smith AKA: SMUDGER